Professor Grüninger on Compliance & Integrity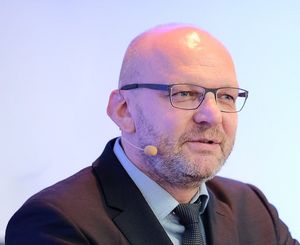 Here you will find selected articles by Prof. Dr. Stephan Grüninger on the topics of compliance and integrity.
Without culture there can be no real compliance
In professional circles, a value-based compliance approach is considered the most effective protection against risks from economic and corporate crime. Long-term added value can only be achieved if all members of an organization take it for granted and are convinced of the compliance culture. Despite this, compliance is a matter for the boss and must be exemplified by the top management in order to achieve a lasting effect.
It should not be neglected that compliance is initially a cost factor. However, in order to be able to survive in the market in the long term, it is a good investment in the future, which pays off especially in turbulent times.
The German article shows how DACHSER has benefited from its value-based compliance approach for 10 years.
++ Kempten, 12. November 2019 ++
"It's time for corporate responsibility management"
Professor Grüninger in an interview with the PR-Journal
Although companies show good will in complying with laws and industry codes, cases of immense misconduct continue to come to light.
The relevance of compliance is strengthened not least by such misconduct. What used to be almost exclusively an issue in the industry and insurance sector is now also an integral part of industrial companies. The importance of compliance as a success factor is growing. A missing or wrong application quickly becomes a disaster for the individual company when risks arise.
A challenge in this context is the evaluation of the established compliance measures: When and on the basis of which factors can the company feel confident that the specially established prevention and detection measures are sufficient?
The importance of compliance and integrity in a company can only be communicated and exemplified by the top management. The practical implementation of the topic in everyday business life is important here. Responsible action must be increasingly rewarded.
Read the german interview now.
++ Bad Honnef, 30 September 2019 ++
Interview: "Making compliance effective and efficient
Professor Stephan Grüninger on core values and integrity in companies
Value or integrity management and compliance are current topics that one encounters more frequently in everyday business life and when looking at the newspaper. But what exactly do these terms mean? Compliance is all about observing internal and external rules. Furthermore, compliance is seen as the promise of how a company wants to do business. Value management generally concerns the internal design of and handling of conflicts of objectives and values. Values are understood to mean those that are morally preferable and desirable. Economic values sometimes conflict with moral values.
Effective compliance and integrity management reduces the probability of misconduct. To achieve long-term effectiveness, the concept of "compliance as a management task" must be implemented. In addition, the creation of a value profile should not be neglected.
Read the detailed interview.
++ Stuttgart, 2019 ++
++
"Rethinking Compliance - Essential Cornerstones For More Effectiveness In Compliance Management"
In an article for the "Compliance Elliance Journal", Prof. Dr. Stephan Grüninger and Lisa Schöttl (Senior Consultant, PwC) analyse the main pillars of a sustainably effective compliance management.

Past scandals about white-collar crime and immoral acts in and by companies are evidence of the regular failure of compliance management. This makes it all the more urgent to rethink "conventional" compliance in the sense of "Compliance 2.0".

In this article, the essential aspects of sustainably effective compliance are analysed in more detail. Thus, seriousness and credibility are the cornerstones of compliance efforts in companies, as well as a moral foundation for corporate action. The commitment and exemplary behavior of top managers and the training of management in line management are of fundamental importance for the effectiveness of compliance management systems. Finally, compliance initiatives and measures must be appropriate, functional and efficient, but always realistic and targeted, so that the company's circumstances are taken into account.

Read the article "Rethinking Compliance - Essential Cornerstones For More Effectiveness In Compliance Management" (CEJ 2017, Vol. 3, No. 2, p. 3-17) by Prof. Grüninger and Lisa Schöttl.
++ Constance, 2017 ++
Prof. Grüninger in an interview on the "Transparent Corporate Culture" project at Telekom
Telekom is examining its corporate culture. Professor Stephan Grüninger has co-chaired the project. In an interview, he explains why it is sometimes so difficult for companies to act ethically and how it can still succeed.
Breaches of laws and regulations in companies endanger reputation and business success - this has been demonstrated by various cases at Dax companies in recent years. Telekom therefore wants to strengthen integrity and the culture of contradiction within the company.
To this end, Deutsche Telekom has commissioned the European School of Management and Technology (ESMT) and the Hertie School of Governance to conduct an international scientific study to examine the corporate culture. The study will be accompanied by an independent group of experts, headed by Manuela Mackert, Chief Compliance Officer, Deutsche Telekom (Co-Chairwoman) and Prof. Stephan Grüninger (Co-Chairwoman).
In an interview with Deutsche Telekom, Prof. Stephan Grüninger explains why it is sometimes so difficult for companies to act ethically and how they can succeed nevertheless. In the interview, Prof. Grüninger emphasizes the high demands placed on companies, which in the event of misconduct result not only in legal risks but also in the threat of a loss of reputation.
In order to promote a corporate culture of integrity, Prof. Grüninger points out the special importance of training measures that sensitize employees to dilemmas in their own corporate environment. Furthermore, false incentives must be avoided and correct behaviour of superiors must be exemplified.
To the complete German interview.
++ Constance, November 03, 2016 ++
Corporate Integrity & Compliance - What is really important
Together with the Forum Compliance & Integrity (FCI), Prof. Dr. Stephan Grüninger, Lisa Schöttl and Prof. Dr. Josef Wieland publish a practice-oriented handbook on the topic of "Corporate Integrity & Compliance - What is really important". The handbook aims to familiarize decision makers in companies with the essential basics, theoretical contexts and application-oriented concepts on the topic of corporate integrity. It seems to be a mandatory prerequisite for the success of responsible corporate governance that corporate leaders systematically deal with the moral side of business in order to prevent legal and reputational risks and to be able to make sustainable use of opportunities arising from trusting cooperative relationships with the company's stakeholders. The handbook contains recommendations for action in the form of dos and don'ts to managers who are convinced of their own accord that sustainable success is supported by corporate management with integrity.
To the complete publication.
++ Constance, 26 October 2016 ++
Compliance culture and integrity
Prof. Dr. Stephan Grüninger in an interview with the Compliance Channel
Hardly any other area receives such attention in media coverage as compliance issues. One or even several scandals are reported every day. And this despite the fact that compliance management systems (CMS) often exist in companies and compliance is not a foreign word there. Why do violations occur nevertheless? This is where compliance culture, integrity and business ethics come into play. Prof. Dr. Grüninger explains the relationship between compliance culture and CMS and presents the "Integrity Barometer", an instrument that can be used to determine whether a value-based and compliance-compliant corporate culture is being lived. Finally, he comments on the question of how the integrity of managers and employees can be promoted in a targeted manner.
Video source: compliancechannel.tv/video/compliance-kultur/
++ Berlin, July 8, 2016 ++
Compliance in a pinch? – Integrity, Leadership & Performance
The DICO FORUM Compliance 2016 took place in Berlin on 31 May and 1 June under the motto "Compliance - Integrity, Leadership and Business Expectations". A highlight of the event on the 2nd day of the conference was the panel discussion "Compliance in a tight spot? - Integrity, Leadership & Performance". In cooperation with the German Institute for Compliance (DICO), the Compliance Channel presents the lively discussion, in which questions such as: whether compliance has arrived in people's minds, whether compliance with rules is still the right way to go, whether perhaps too much compliance is practised and whether, finally, "compliance as a line or management task" is the answer.
You can watch the panel discussion as a video of the Compliance Channel here.
The discussion was moderated by Dr. Thomas Lösler, CCO at Allianz S.E. Other panel guests besides Prof. Dr. Stephan Grüninger were Dr. Anna-Maija Mertens, Managing Director of Transparency International Deutschland e.V., Otto Geiß, Head of Compliance, Value and Risk Management at Fraport AG, and Oliver Wieck, Secretary General of the International Chamber of Commerce (ICC) Germany.
++ Berlin, June 1, 2016 ++
"It doesn't work that way - compliance needs to be rethought"
In an article published in the trade magazine Compliance Manager, Prof. Stephan Grüninger presents six theses for more seriousness and credibility in compliance management.
"Compliance has often failed in the past, the current "VW exhaust scandal" is just one example. Not everything needs to be reinvented, and not everything that companies have done in the past in the area of compliance is bad. But it is time to rethink compliance. What is really important in Compliance Management 2.0? My answer is that seriousness and credibility must and can be fostered. How, I'm trying to outline that in six theses."
To the full article.