Student Ticket
Students can purchase the Student Ticket ("Studi-Ticket") provided by the Stadtwerke Konstanz (regional bus and ship authority), which is valid for unlimited trips on the city buses (and as far as Landschlacht in Switzerland) as well as the ferry to Meersburg (bikes allowed, but not cars) every day during the semester. However, the so-called "solidarity fee" that all HTWG Konstanz students pay gives you to the benefits of the Student Ticket - for free - after 7.00 P.M. (not including the late night buses). The Student Ticket can only be used with a valid student ID. So don't forget to validate your Zack Card each semester!
Get the free app "FahrInfo Konstanz" to have the local bus schedule at your fingertips: Just enter the bus stop you're at or are going to - or even simply the address - and the app will show you the next connections. You can also get the connections available at each bus stop, transfer times, as well as directions to your destination.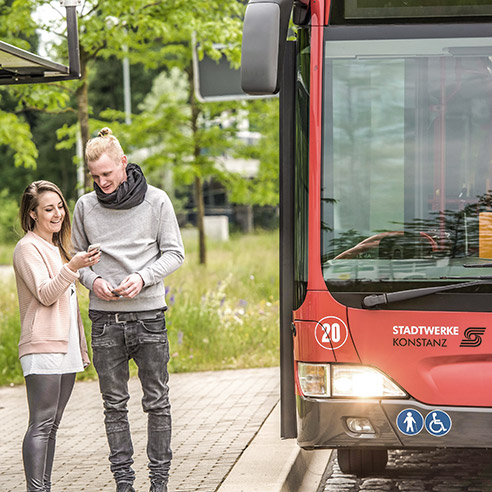 Photo: Stadtwerke Konstanz
VHB Student Ticket
Das The VHB Student Ticket is valid for local bus and train transportation (second class). It is a personal ticket and is only valid for yourself. It does not entitle you to bring along additional persons or a bike. It is only valid in connection with a valid Student Ticket from the Stadtwerke Konstanz (regional bus and ship authority) as well as your student ID. This ticket allows you to travel as far as nearby Allensbach, Radolfzell, Singen, Engen and even Stockach.
Late Night Buses
The late night buses run between Konstanz and the outlying suburbs (including Allmannsdorf and Staad/ferry) between Wednesday and Saturday night. The Student Ticket is not valid for these buses. Check out the schedule here.
Cycling in Konstanz
Bikes are very popular in Konstanz. You can get around the city very well on two wheels. 195 km of bike paths connect Konstanz and its suburbs. It's no surprise then that Konstanz has one of the highest percentage of cyclists in all of Germany.
You don't have your own bike? No problem. Just ride a "konrad": Rent one of the 150 bikes available around the clock from one of the 15 rental stations spread out across the city.
Tip: If you need to transport something heavier, you can rent one of the TINK transport bikes.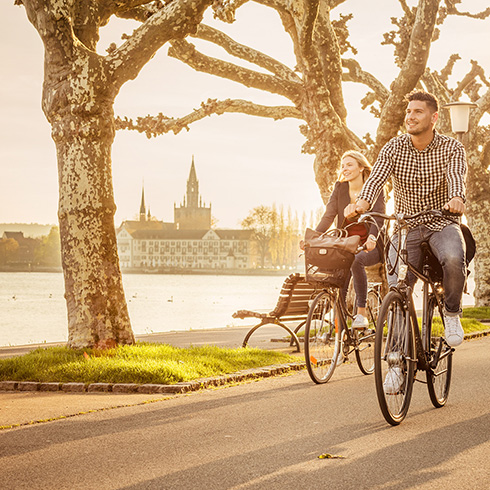 Photo: Marketing und Tourismus Konstanz / Schwelle
Parking at the HTWG Konstanz
There are only a limited number of free parking spaces and only a few metered parking spaces around the HTWG Konstanz campus. However, you can find parking at the following nearby locations:
Parking garage "Bürgerbüro", Untere Laube 26
Parking garage Benediktinerplatz, Benediktinerplatz 1 (near Ibis Hotel)
Parking garage EDEKA (at the EDEKA supermarket), Reichenaustraße 36
Parking garage 47°, Reichenaustraße 17 (across from EDEKA)
Parking lot at Schänzlehalle, Winterersteig 23
Parking lot at Bodenseeforum (near the Schänzlebrücke Nord), Park & Ride

You can find out if parking spaces are available at any time using the city of Konstanz's parking guidance system. BTW, you can also get detailed directions to the HTWG Konstanz as well as a campus map here: Directions and campus map