Anna Zubrod Dipl.-Theol.
Research Associate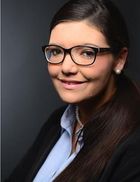 Studied Protestant Theology focusing on social and business ethics as well as Religion at the Universities of Mainz and Marburg. Was accepted to the program in Economics at the University of Hagen during her bachelor's studies. Completed her degree in theology, writing her thesis about business ethics in the Islamic world based on the Koran. Has gained experience working for, among other things, an e-commerce start-up and as a staff member at the Institute for Business- and Social Ethics (IWS) at the Philipps University in Marburg. Received training as a mediator and as a SA 8000 auditor, certified by Social Accountability International (SAI, New York).
From 2016-2018 research associate for Prof. Dr. Annette Kleinfeld at the Konstanz Institute for Corporate Governance (KICG) in the area of corporate social responsibility & sustainability. Coordinator of the Forum Compliance & Integrity (FCI), under the leadership of Prof. Dr. Stephan Grüninger (since 2016), KICG Institute Manager (since January 2019) and research associate in the project "Anti-corruption compliance and integrity management in high-risk countries".
Kontakt
t. 07531 206-637
e-Mail Anna Zubrod
Back to Team Overview.