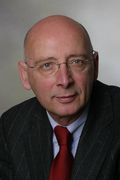 Prof. Dr. habil Josef Wieland
External Member
Resume
Completed studies in Economics and Philosophy; PhD in Economics in 1988. Completed post-doctoral qualification for German universities (Habilitation) in 1995.
Chair of the Department for Institutional Economics, Organizational Governance, Integrity Management & Transcultural Leadership at the Zeppelin University Friedrichshafen as well as Head of the recently founded Leadership Excellence Institute Zeppelin (LEIZ) since 2013. Chair of the Cooperative Doctoral College at the HTWG Konstanz, founded in 2011.
Professor for General Business Administration focusing on business and organizational ethics at the HTWG Konstanz - University of Applied Sciences since from 1996 to 2013. Chair of the MBA program Human Capital Management (HCM) since 2001. Chair and lecturer in the EMBA Compliance & Corporate Governance for Chinese managers at Daimler AG since 2007; for European managers at Daimler since 2011.
Scientific director of the Konstanz Institute for Value Management (KIeM) - Institute for Intercultural Management, Values and Communication, Director of the Center for Business Ethics GmbH (ZfW), where he founded the User Council for Value Management ZfW. Chairman of the European Business Ethics Network Deutschland E.V.: (DNWE) since 2012.
Member of the working committee "Social Responsibility of Organizations" (NASG-AA 1) and involved from the start in the development of the standard ISO 26000 "Guidance Document on Social Responsibility" as a representative of the stakeholder groups "Government" and "SSRO" in various functions (secretary of the interim task group 6, expert, observer). Member of the CSR Forum initiated by the German Federal Ministry for Labor and Social Affairs (BMAS).
Awarded the Max Weber Prize for Business Ethics 1999 from the Institute of German Business in Cologne as well as of the Prize for Applied Research (state of Baden-Württemberg research prize) in 2004. Member of the board of trustees responsible for awarding the Max Weber Prize for Business Ethics since 2005.
Work and Research Focus
Business Ethics
Organization and Value Management
Corporate Social Responsibility
Compliance
New Institutional Economics
Applied Ethics / Social Ethics
Company Culture & Communication
Company and Society
History of Economic Theory
Publications
You can find all publications here.
Contact
Head of Leadership Excellence Institute Zeppelin | LEIZ
Department of Institutional Economics
t. 7541 6009-2261
f. 7541 6009-1299
Email to Prof. Dr. Josef Wieland.