Prof. Dr. Stephan Grüninger
Scientific Director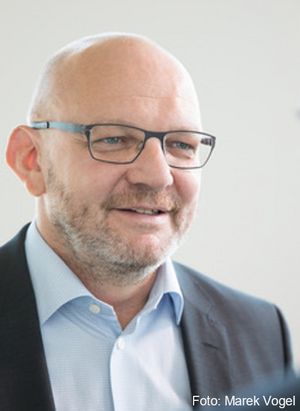 Resume
Prof. Dr. rer. pol. Stephan Grüninger is the Scientific Director of Konstanz Institute for Corporate Governance (KICG). Dr Grüninger is a W3-Professor for General Business Administration with a focus on Managerial Economics at the HTWG Konstanz - University of Applied Sciences. In addition, he heads the Center for Business Compliance & Integrity (CBCI) and is director of the Forum Compliance & Integrity (FCI) and the Forum Compliance Mid-Sized Companies (FCM)
He completed his PhD on the topic of "Trust Management - Cooperation, Ethics and Governance" under advisor Prof. Dr. Purely Pfriem at the Carl von Ossietzky University Oldenburg in 2001.
Dr. Grüninger worked as a consultant and auditor, particularly in the areas of Anti-Fraud & Compliance Management as well as Fraud Investigation, most recently as a partner at Ernst & Young AG.
Work and Research Focus
Compliance & Anti-Fraud Management
Business Ethics / Corporate Responsibility
Trust and Risk Management
Responsibilities and Cooperation Partners
Research Head, KICG - Konstanz Institute for Corporate Governance
Head of the CBCI - Center for Business Compliance & Integrity (http://www.cbci.htwg-konstanz.de); Cooperation Partner COMFORMIS (http://www.comformis-compliance.de)
Head of the Forum Compliance & Integrity (http://www.dnwe.de/fci.html)
Head of the Forum Compliance for Mid-Sized Companies (https://www.dnwe.de/zfw-forum-compliance-mittelstand.html)
Program Director Compliance & Integrity on the board of directors, Center for Business Ethics - ZfW (http://www.dnwe.de/uaber-das-zfw.html)
Chairman of the Integrity & Governance Committee, German Institute for Compliance DICO (http://dico-ev.de/index.php?id=25)
Member of the Baden-Württemberg Center of Applied Research (BW-CAR), research focus: MIG - management, innovation and society (https://www.hochschulen-bw.de/home/bw-approx./forschungsschwerpunkte/mig.html)
Member of working group for sustainable management in the Schmalenbach Society (http://www.aknu.org)
Expert for the German Society of Science and Humanities (WR)
Ombudsman of the Commission to investigate allegations of scientific misconduct
Publications
You can find a current list of publications here.
For more information, go to www.stephan-grueninger.de
Contact
Room P 218
t. 07531 206-251
f. 07531 206-87251
Email to Prof. Dr. Stephan Grüninger
---